Close
Looking for a new home?
Please fill out the contact form.
EcoWorld London Development Company Limited would like to use the personal data that you completed on this form (including your name and email address) to contact you from time to time with personalised content about EcoWorld London branded or co-branded property developments and related services, news, promotions or events. Please indicate if you are happy to receive this content.
EcoWorld London Development Company Limited is majority-owned by EcoWorld International Berhad which has other subsidiaries and affiliates detailed here ("EcoWorld International Group"). We would like to share your marketing preferences and details with the EcoWorld International Group so that they can send you marketing content about other developments that may interest you.
To change your preferences or to stop receiving direct marketing emails from us, you should click the link at the bottom of any email received which allows you to unsubscribe.Details on how we would manage your personal data is available in our Privacy Policy.
SUBMIT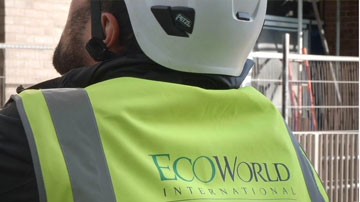 Featured news and events
National Apprenticeship Week at Kew Bridge Gate
For National Apprenticeship Week 2022, we spoke to graduates of our pre-employment training programme at Kew Bridge Gate, Hounslow who are now apprentices on the project.
Read more
News and events
EcoWorld London achieves 'Gold' award for customer satisfaction

We are thrilled to have won the Gold award for customer satisfaction at the In-house awards 2022

EcoWorld London's plans for new pedestrian-friendly town centre for Woking approved

Plans include new biodiverse public spaces and 'green street', shops, cafes, and a centre for the York Road Project as well as 929 much-needed new homes.

New family Council homes open at Herings Hall Close

The official completion of Herings Hall Close, a new joint venture development between EcoWorld London and Lampton Property360 of council homes in Brentford was marked this week with Hounslow Council's Leader Cllr Steve Curran meeting one of the families at their brand-new home.

Aberfeldy New Village LLP submits plans for 1,600 new homes, town square and public park for E14

The new masterplan of up to 1.52m sq ft will provide homes of all tenures, at least 35% of which will be affordable, as well as new shops and workspaces

EcoWorld London donates Griffin Park seats to lower league clubs

EcoWorld London, the residential developer behind the redevelopment of the former Brentford Football Club stadium, Griffin Park, has donated 1,540 of its seats as well as dugouts and scoreboards to lower-league football clubs across the UK.

New Road Triangle development approved by LB Hounslow

New development by by EcoWorld London and Lampton Development and Investment will deliver 176 new homes, half of which will be Council owned social rented homes.

EcoWorld London partners with Royal Botanic Gardens, Kew to deliver Community Learning Programme

EcoWorld London, the leading London residential developer, announces its partnership with Royal Botanic Gardens, Kew, as the official sponsors of Kew's annual Community Open Week and its Community Learning Programme.

EcoWorld London achieves 'Gold' award for customer satisfaction

EcoWorld London has achieved 'Gold' in the latest, wholly independent, customer satisfaction awards run by specialist market research company, In-house Research.

EcoWorld London provides hot meals to students of Green Dragon Primary School

EcoWorld London were able to provide 90 free hot meals to Green Dragon Primary School pupils and their families.
Load more